Accessing Our Resources: An Afternoon of Psychodrama 
With 
Sylvia Israel, MFT, RDT/BCT, TEP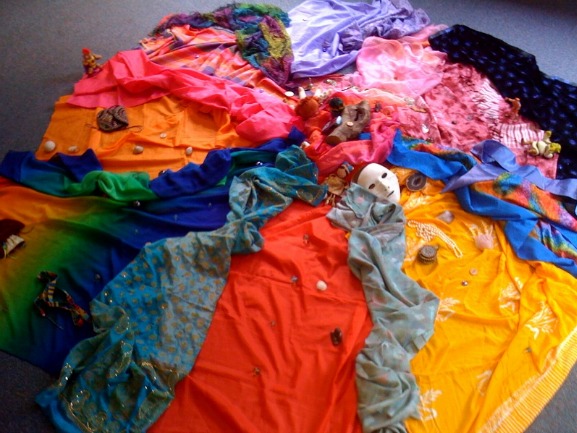 Spontaneity and creativity are essential for survival. What happens when we, or our clients, feel "stuck"? What helps? In this day of growth and renewal we will identify resources - cultural, spiritual, internal and interpersonal and explore what keeps us from accessing them.  We will learn psychodramatic methods to work with ourselves and others. 
What is Psychodrama? Psychodrama is an experiential method of exploring our private and public worlds in a multidimensional, creative way. It helps you safely express feelings, develop insights and practice new, desired behaviors. 
Who should attend? This workshop and training is appropriate for those new to psychodrama, as well as experienced practitioners; to professionals and students in  mental health and a variety of other fields; and those wanting to further their knowledge of psychodrama.
Join us as together we take steps in creating new and life affirming narratives through the healing power of the arts and creativity. No acting skills needed and participation is at your level of comfort.
When:           Sunday March 22, 2020 1:00 PM -- 5:30 PM
Location:
      IMAGINE! Center for Creativity & Healing, 1924 Fourth St. San Rafael, CA 94901 
(map)
Fee:
             $95. Fees fully refundable until 2 weeks prior; 50% refundable after; no refunds day of workshop. 
Students (with full-time ID) $75. 
Registration: Send check to Sylvia Israel 1924 Fourth St. San Rafael, CA 94901 
Continuing Education Information for Professionals
Program Goal: Participants will learn Psychodrama history and philosophy and how its methods can enhance your work 
After the workshop participants will be able to:
- Describe the three parts of every Psychodrama
- Discuss one historical fact from Moreno's life that influenced the development of Psychodrama. 
- List three categories of personal resources  
Continuing Education: 
Training hours for Psychodrama and Drama Therapy. 
Sylvia Israel
, MFT (mfc #31245), TEP, RDT/BCT, Board Certified Trainer, Educator and Practitioner of Psychodrama and Registered Drama Therapist/Board Certified Trainer, teaches at CA Institute of Integral Studies (CIIS) and Kansas State University. Sylvia is cofounder of Bay Area Moreno Institute, IMAGINE! Center for Creativity & Healing and Bay Area Playback Theatre.  She is also a Certified Trainer in the Therapeutic Spiral Model of working with trauma and a national (including Spirit Rock Meditation Center) and international presenter. Sylvia enjoys supporting clients in awakening to their spontaneity and creativity and living more fully the
 in
 present moment. Her work blends verbal and somatic therapy with drama, sandtray and other expressive arts. Sylvia maintains a private practice in Marin and San Francisco working with individuals, couples, families and
 groups
.